Development hell ,according to TV Tropes, is the state wherein an announced creative project becomes stuck at the preparation stage for years, some get out of it alive while some don't, forever relegated to the dustbin of history. This is most commonly associated, but not limited to, video games as other forms of media can also be susceptible to be stuck in devlopment hell such as movies and music albums and one such good example of being stuck in development hell, for me that is, is the idol group MNL48.
I. MNL48? Ano ba yan?
Now, if you don't know what MNL48 is, naiintindihan kita kasi kung iko-compare mo yung promotion between MNL48 to someone like Vic Sotto, mas marami pang makakilala kay Bossing Vic kaysa kay Gabb Skribikin. Here's the thing, MNL48 is an idol group but not in that K-pop style that your friends, cousins, classmates, and others know because MNL48 is actually based on a the 48 family of Japanese idol groups managed by one Yasushi Akimoto, a guy who has been doing this since the '80s but that's another story for another time.
The set-up for this is that MNL48 is one of the sister groups of the main group, AKB48, located in Southeast Asia, just like it's Bangkok counterpart BNK48 and unlike it's sister groups and the mother group, it debuted with exactly 48 members. That's right, eksaktong 48 sila nung nag-debut yung grupo.
" I am little-bit surprised…" , ika nga ni Yui Yokoyama, general manager ng AKB48 from 2015 – 2019 and sa totoo lang, nobody, not even the wotaest of the wotas ever expected this and basing on my recollection, I initially thought na isa tong fake page na naisipan ng isang wota just to prank people into joining because nobody cared in the slightest at that point but little did we know that this will become reality.
Now here's the thing, sabi sa website ng MNL48 na that the group officially started in September 21, 2017 when HalloHallo Entertainment partnered with ABS-CBN (coincidence?) but in actuality, the MNL48 project already started back in December 2015 when the mother group celebrated it's 10th anniversary by announcing that there will be not one, not two but three sister groups that will be added to the 48 family.
II. It is unlike anything you've seen before. How different? You're about to find out very soon.
Okay, so andiyan na yung announcement, now what? Will they announce any dates for the auditions? Will they start doing promotions for the group? Will there even be interviews with Akimoto, or anybody from the higher-ups of AKS? Not in the slightest. Aside from a measly write-up from ABS-CBN News, that's pretty much it at that point because from here on out, puro news from the other sister groups and the mother group ang makikita niyo sa FB page nila, either that or some follower updates.
After a barrage of follower posts, fan interaction posts, and more AKB48 news, it is as if it is now a pipe dream na magkakaroon ng idol group sa Pilipinas and this is where things get to be a bit confusing for me and at the same time, a glimpse of hope for people who still believe the hype.
On May 29, 2016 in their infinite wisdom, they decided to do a fan meet. A fan meet. For one, it was a great way to gauge your fanbase para malaman mo kung sino ang core demographic mo but at this point in time, anong ipapakita mo sa fanbase mo?
Remember, this was the pre-audition stage, no idols, or as to what they like to call them "oshi", have been picked yet. Are they trying to sell the image of a 48 idol? If that's the plan, then I am in the wrong here because as I further dug into this, I am clearly in the wrong here because this so called "fan meet up" is nothing more but a giant brainstorming session between fans and AKS.
We will go back to this in a bit because the words "brainstorming session" will be important in a few moments but aside from the "brainstorming session" that happened, there are some activities that were presented to the fans are the following, in order of appearance:
The "AKB48 inspired" game of janken taikai (in short, glamourized bato bato pik).
Video presentation of Wings Aren't Needed by the mother group AKB48.
Some head honchos from AKS announced their "excitement" for MNL48 and this is where it is quite confirmed that HalloHallo Entertainment will be running this joint.
Some workers from Movie Stars Cafe did a cover of an AKB48 song or something.
Now everything would seem to be fine and dandy after that but then…
This post, right here, solidified na sila talaga ang legitimate page for the group in spite of the updates or lack thereof, and in fact, if you take a look at the comments section on said post, it might be referring to some illegal recruiters taking advantage of people who wanted to be aidorus.
It's fine and all pero may kulang eh, and I am not sure if this is just some blunder of the person running social media at this time or it's one of those instances wherein Japanese management shows its oversensitivity to PR because at first glance, iisipin mo na they wanted to keep this project a secret from everyone who didn't attend the fan meet-up and that they don't want any leaks because at this point in time, there's nothing to leak about this group and whatever comes out of people not involved in this project's mouths would just be, like one of my favorite podcasters say, rumor and innuendo.
The posts after that were nothing but more fluff that they are used to post on their Facebook page pre meet-up and from time to time, there will be cryptic posts like this:
What is this, you ask me? I don't know. Is this an announcement for an audition? Is this an announcement for a media partner? Not much has been said and all they ever said here is "stay tuned".
..and then there's this, it looks like that AKS and HalloHallo went with the route of guerilla advertising because they went ahead and released billboards throughout Metro Manila and Quezon City.
Normally, hindi ka magpapalabas ng billboard if you don't have a tangible product to advertise and in this case, I think that most people didn't even bother to care about this billboard and what it stands for so or, at that point, what it is.
It's a failure for me but at the same time, those who do are part of the demographic na gusto nilang makuha and you can see that by looking at their FB post stats and in a way, it is also a success to the point that it was one of my personal experiences to see a billboard of theirs in Reliance, Mandaluyong.
After that, nothing much happened…for months. From August to September up until November no updates came out of the page aside from a fan meet with AKB48's Team B which nobody seemed to care.
III. Your Stage Is Waiting
Manila, now it's your turn! Calling all young and talented girls aged 15 to 20 years old, who want to join the biggest idol search in the Philippines. The registration for the MNL48 has officially started.

MNL48's Facebook Page, December 5, 2016
Sa wakas! Nag-start na rin ang audition for the first 48 members that will comprise the first generation of the group and this is where things started to get interesting not only because of who auditioned but how it was done and believe you, me, what you'll see next is an important mechanic on how things will play out.
You see, HalloHallo and AKS decided to let the wotas decide who will be part of the first group and, if you have the guts to do so, register to be an applicant. Here's what you do according to the official website as of December 10, 2016:
There are two ways of register: via PC or via mobile using their MNL48 Plus app and each way have their own set of steps on how to do it but there are three key components that are needed to be included on your registration to have the chances of getting scouted:
Photos (minimum of 8, maximum of 3)
A personal message
An optional 15-second video. (Yes, this is optional but this is also a key component if you want to increase your chances)
Now move on na tayo sa how can one join and on to who can join. This will also play a part on later events at dito din papasok yung infamous love ban that was being instituted in Japan-based idol groups such as this.
Take note of the stuff that are mentioned on must NOT have any of the following list because according to an anonymous source, may mga applicants that were already in a modeling contract/talent representation deals that got in from the initial screenings (backdoor deals much) so much so that ginagamit nila yung marketing leverage nila to bring them up from the ranks via mass voting or whatnot and you know what else is not being followed here?
The fact that you have to be a female and this time, there's no external force acting on it, it's the system behind the voting system HalloHallo used. Here's the thing, the registry system is as anything goes as it can be, no form of quality control whatsoever, but not all people who registered there are in it for the lulz, some want fame and some really wanted to become an idol.
..and speaking of the screening process, according to an anonymous source, to prove their legitimacy, they were asked for documents like birth certificate and all that and a short interview was conducted between the management and the candidates. I really wanted to see how the interview went.
Did they ask them about their knowledge about AKB48? About any talents? If they are legitimately single? I don't know, it was two-three years ago and how did they do downsizing? They did it by picking the top 200 out of the God knows what number of initial registrants, and that's what you call a kill streak folks.
III.V – The "Unholy" Alliance
By the way, during the time of the nationwide auditions, something unexpected happened and it changed how things were handled on the foreseeable future at that point because on the twenty-second day of September, 2017, Hallohallo Entertainment signed a deal with ABS-CBN to be the official media partner for MNL48.
Not much is known about how did the selection for the prospective media partner was made but if you take a look at the comments section when this was announced on Facebook, it's understandable why some hated the announcement given ABS-CBN's track record and here are some of the choice quotes from the comments section:
looking forward for this trainwreck lmao

P. Dionido
Si Lauren Dyogi ba yung nasa isaag pic? JUSKO MAGIGING PBB48 YAN 😨😨😨

J. Alvarez
15-20 years old wait lang baka sa showtime ata ito gaganapin or nagkataon lang yung girl power na sinasabi sa commercial nila..

Miyuki Yamada Kazunari (obviously not the person's real name)
MNL48 is doomed from the start.

A. Lo
It looks like a lot of foreshadowing can be seen here knowing how did the first generation turned out initially but here's my two cents on the selection, mas mabuti nang ABS-CBN ang naghandle ng MNL48. Sure, they have this tendency to make things too dramatic to the point that it's sappy B.S. but they are the lesser evil compared to the other networks at this point and let me point out why:
A lot of people are watching ABS-CBN and if Hallohallo wants to get their project to be seen by a lot of viewers, then ABS-CBN is the way to go.
GMA has a track record of ruining Japanese licenses (i.e. Zaido) and that most people think that they won't even bother promoting them due to their notorious reputation of being the boomer anime network due to repeat airings of anime from the 1970s to the 1990s.
TV5, at this point, was already morphing into the sportsbro network due to their agreements with ESPN, PBA and the WWE. Also, aside from sports, it also had the reputation as The Raffy Tulfo Network (formerly The Animega Network) but this time because Wanted Sa Radyo is the most popular program you can think of when someone mentions TV5 to you, unless you're a weeb.
IBC-13 is anything but dead at this point but you'll get nothing out of it but reruns of Cooltura, a show from the early 90s, and the other two networks, PTV-4 and CNN Philippines respectively, don't have the demographic MNL48 needs.
Now that I got that out of the way, let's move on.
IV. It's Showtime, Folks!
The road to the Showtime performances didn't immediately start with the announcement of a deal between ABS-CBN and Hallohallo. It all started with not just one but two announcements: nationwide auditions will be held and this.
That's right, nagbabalik ang Team 8 sa It's Showtime to promote the upcoming MNL48 auditions (and to beat Eat Bulaga and the then popular AlDub love team in ratings) and, for me, it was here that they finally decided to go full blast with the promotion starting with this Showtime episode.
Even if nobody gave a damn about Team 8 (as AlDub was so much of a saga that the finale was held in Philippine Arena of all places), they accomplished their main goal: promote MNL48 as this new group na siguradong kababaliwan ng lahat…
Then came January 20, 2018. This is it, pancit. Here comes the Top 200 ladies who were given a pass to be on MNL48. This is where all the wotas came out of the woodwork (and for some, their parents' basements) and became critics as to how was this handled, kesyo pangit daw yung performance, or di sabay sabay yung top 200 or whatnot, the fact of the matter is that they were able pull this off without screwing up big time but for the next sequence of events, things got "worse".
The video above is just one of the most memorable, if not the most memorable moments in the history of the group with It's Showtime. Some find it cute, while others like me find it cringy and we'll get to that later but first, the management decided to cut the fat out of the top 200 by eliminating, at first, half of the competition and for some reason, they decided to cut more than half of the roster and have them go at top 75 and reset all votes.
If you're not catching up to now, at this point in time, there are rumors circling around that ABS-CBN is trying their darndest to handpick the top 48 idols from the start and this whole Showtime thing? Pakitang-gilas lang not only to the wotas who are watching a show that they normally won't give a hoot about but as well to HalloHallo just to show that hindi sila makahalata ng underhanded tactics that ABS-CBN were "doing" but again, I dismiss it as rumor and innuendo because the reasoning to go from 100 to 75, although a bit believable, is just speculation.
Then the top 75 are now being cut out to give us the top 10 and this is being handled weekly, on Showtime, and every Saturdays and to cap that off, here's more of one of the cringiest moments of the Showtime era.
I am not 100% sure as to why they chose to use a song from 1989 to promote the top 10, it's just…baffling to be honest. Why not use anything from the 48 library of songs? They already did it back with the top 200 contestants (and it's one of the more infamous ones, mind you) so why the sudden change? Only time can tell at this point because, even for me, this was a boneheaded choice but some have their own theories to it: maybe takot yung management (at least on the ABS-CBN side, not HalloHallo as it is owned by a Japanese guy) to play songs the madlang pipol won't understand but then again, these are the madlang pipol who will always listen to KPop so where's the harm? Okay, enough ranting about cringe moments that happened in the past, now let's get on with the show.
Unlike other 48 groups before it, the selection for the top 10 oshimen (as what they would call the girls) was deteremined by the power of democracy, aka fan voting, something that Produce 48 took for itself as its marketing gimmick and top 10 for each week are shown every Saturday on It's Showtime. In a way, it's a genius act from ABS-CBN to introduce the oshimen to a much larger audience than the core demographic because if you really want to succeed as an entertainer sa Pinas, whether you like it or not, you have to pander to the normies.
V – Release Day
After weeks and weeks of dance segments, rumors of ABS-CBN sabotaging the whole thing, and numerous wotas and normies alike voting for the top 10, at last, on the fateful day of April 28, 2018, inintroduce na ng HalloHallo ang first generation of MNL48 oshimen.
Out of 72 participants, only 48 were chosen and it sure was a rigorous process, for both the girls and the fans mind you, and out of the 48 women from all over the Philippines, the center girl, aka the leader of the squad, was none other than Shekinah Arzaga, also known as Sheki by the fans.
The center has now been chosen, joing her were the ranks 2-7, forming what is known as Kami7 (神7 lit. God Seven) and this group is not to be messed with because ang Kami 7 lang naman yung pinkasikat na oshimen sa grupo (hence ranks 1-7).
That doesn't mean that the rest of the girls are not that popular either, some of the most well known oshi didn't come out of Kami7 circle and that trend continues to this day, especially with the normies.
Now that naintroduce na ang MNL48, it's time for AKS/HHE/ABS-CBN to produce the songs and as with the other sister groups, and the first song to be covered? Heavy Rotation? BINGO? Sakura no Hanabiratachi? UZA? No? Ladies and gentlemen, it's Aitakatta or as it was released, Aitakatta – Gustong Makita which was released on digital platforms such as iTunes on Spotify on the 31st of August, exactly four months and three days after the top 48 has been introduced, interesting huh?
Interesting enough because the song already got aired, nationwide mind you, on MOR 101.9, not in the morning where most people would be hearing it due to the morning grind, but on 7:00 PM wherein may traffic rush pa rin naman doon pero mas marami pa rin nakikinig ng radyo pag umaga eh so their chances of more people spending money for Aitakatta got hurt a bit but then again, not all young people listen to the radio, only boomers do and you have to be either Ben Tulfo or Larry Damian to be popular with boomers or else, wala kang market share.
Now how shall we put this? No, Aitakatta didn't became MNL48's "Basket Case" but as some dude from Back2Gaming said, your first single doesn't need to be this banger of a track from the start, as long as it's decent, you're on your way to a million bucks.
Basing on what I've heard on the radio on that day, and having heard the original Japanese version of the song, it's a good rendition with a bit of a cringe factor put in and knowing the original song didn't help matters, for me that is but enough about me, anong hatol ng madlang pipol? Walang may pake because they didn't land on MYX's Hit Chart for at least a whole month until the week of October 10, 2018 wherein they got rekt by Inigo Pascual of all people in the charts (they are ranked 10, Inigo ranked at 1) and alas, they never made it to top 1 and they got swept out that fast…
Yes, that caption sums up my reaction as I researched for Aitakatta's charts, somehow the single didn't get past top 5 but this, this not only made past the the top 5, but it made top freakin' 2, only to be swept by BoybandPH and this happened on December 2, almost three months after the release of the single it was coupled with. Kudos to the girls, to HHE and to AKS to finally making a sleeper hit out of something, the J-idol revolution has begun! Time to get your inner wotagei spirit flow.
Checking more into the charts from two years ago, they released Pag Ibig Fortune Cookie right under our noses during a handshake event on November 25th and this time, it truly gave us the song that would catapult them into the stratosphere.
This time, it was better than Aitakatta in terms of quality, there is little to no cringe moments on this song, and I believe that this time, the fact that I don't know the original song that PFC was based on (probably because I like to keep my playlist at least pre-2004, especially with my taste in Japanese music and also that I didn't care for AKB48 post Atsuko Maeda) really helped me enjoy PFC and at this point in time, I became fond of their songs.
The group may not be as popular as other music groups at the time, but it endeared itself to the Philippine idol community and finally, Filipino wotas can now be proud because they have a non KPop based idol group that they can claim as their own and to quote Neil Sedaka, better days are coming, not only for MNL48 but for the community as well because it inspired them to be idols themselves and start uploading songs to Spotify and market themselves as such on cosplay conventions and that's for another time, as we venture more on the group that "started it all".
VI – Itadakimasu – Thank You and other things you shouldn't laugh about but you have to
If you have been living under a rock and you know Japanese, let me explain the title of this section and how it relates to MNL48, because the next sequence of events is peak cringe, so much so that this event got the group and the management into lolcow status for at least a few weeks.
You see, like the other groups in the 48G family, MNL48 also does this YouTube vlogs but unlike the rest of the 48G family, they were set up like variety shows, and one of them was called MNLife (not sure why) and come during that day's episode, they were teaching basic Japanese and then this happens:
This, my friends, is what you call a botched spot. Even a person who knew little to know Japanese knows that arigatou doesn't mean let's eat, even racists know that pero alam niyo kung ano yung mas nakakatawa, if you look at the flash card, they have the right translation.
Some blame this mistake has been blamed at the girls themselves because most people thought that they are trying too hard to be idols when in fact, it was the production van that botched it because kung titignan mo yung caption, ibang iba doon sa nakalagay sa flash card. If anything, whoever botched the post-production should've, if not already, have been fired because this caused unwanted attention to the girls, something that they don't want to get lalo na't nagsisimula pa lang sila.
As for the other things, it's kind of funny that ABS-CBN is promoting a group that's more in line with the younger millennials (aka people born after the period between EDSA Revolution I and the end of the Showa era) and zoomers on a show that's more likely to be seen by boomers and older millennials (aka the Voltes V/batang 90s generation) because every time the group does a performance on Showtime, the audience is as dead as night because they expected Tawag ng Tanghalan or Vice Ganda spitting some hugot na hinugot lang sa kung saan, not these jabronis who dance around in silly costumes and singing out of tune, they wanted to be entertained, dammit!
Iisipin mo na if they wanted the zoomer audience, they (ABS-CBN) would let them perform more on ASAP since mas maraming millennial na audience doon but nope, they decided to let them promote their album sa Showtime wherein 90% of its core audience wouldn't give two cents about them. Maybe because they already have a group that they were planning to use before HalloHallo came their way?
I'm not one for conspiracy theories but during the auditions, there is some rumor and innuendo that a girl group named Girl Power Unite being promoted on the same show. What's more is that there are some who were rumored to be "called" to be a part of GPU and this is kind of a bit alarming because either a.) ABS-CBN is trying to do something similar but then they got the HalloHallo deal or b.) they are using GPU to handpick who goes to the top 48 and who's not but either way, the GPU plan got shafted even before the MNL train got up to speed.
Then there's the Bottom 7 vs Challenger 7 debacle wherein seven new oshimen came out of nowhere to usurp the spot of the bottom 7 members. This technique is usually being employed to contests like this but not so in the 48G system so it kind of created a controversy amongst fans by stirring the pot but this isn't Tawag ng Tanghalan mind you, this is for creating the first franchise-based idol group in the Philippines and this is what you call jumping the shark just to gain more viewers which would actually lessen the number of viewers who watch the show and also, to steal a quote from Back2Gaming:
MNL48 has certainly broken new ground – as a classic example of how NOT to do a 48 Group audition.

Back2Gaming.com, 04/11/2018
VII – The Dream Lives On And So Do The Nightmares
After months of months of handshake tours, Showtime performances, single releases, theatre performances, and lots of wotas whinging and whinging about how MNL48 is doomed (and I can't doubt them since outside of the wota groups on the internet, weebs, and people who got to know who Gabb is, nobody cared about MNL48), the first generation of Filipino 48G idols suddenly released this:
They released an announcement of the aptly named "Living The Dream" concert that will be happening on April 6, 2019, a few months from wherever we are back then in 2018 and for the fans, this is what you can consider a coming out party, which will take MNL48 to the mainstream and will finally be loved by everyone.
So everyone waited, wand waited, and waited for April to come and during the wait, we got another single released and then April came.
Sadly, yours truly here wasn't able to watch the concert due to prior commitments at that time so I cannot give you any firsthand experience on how the concert was nor I can't give you the sales figures for this since there's no data readily available on the internet but basing on what I can see regarding the concert reviews, it was a great success for everyone involved: from Sheki and the gang, to director GB Sampedro, to HHE/ABS-CBN/AKS management to the fans themselves, making it the peak of the first generation.
The set list consists of the songs already released from the four MNL48 singles released at the time as well as some untranslated 48G songs with some VTRs from the sister groups as well some announcements.
All in all, this is the success that MNL48 badly needed as a brand, this will surely open up a lot of opportunities for more media appearances, more events, and more people discovering the girl group and eventually becoming fans but for some of the gang, living the dream will be their last train home (and yes, it's a JoJo reference).
You see, there is this concept within the 48G groups wherein members can or will have to "graduate" from the group and be their own artist/person/etc and this practice is not only within the AKS family of groups, the Saturday Night Live cast does it when one of the cast becomes more popular than the rest but unlike the other 48G groups, may twist dito.
If you're unranked, you can kiss your ass goodbye because HHE will most likely show you the door and it was due to financial concerns as per HHE's official explanation and that's it.
However, it's not only the unranked who have to say goodbye, as some heavy hitters and even those who are a part of Kami7 have to say goodbye because of various reasons. Names like Sayaka, Sheki, Faith, Sela are now gone and that's pretty normal as we are now starting the second generation with a new center: Jhona Alyanah Padillo aka Aly to lead the group towards continued relevance and stardom.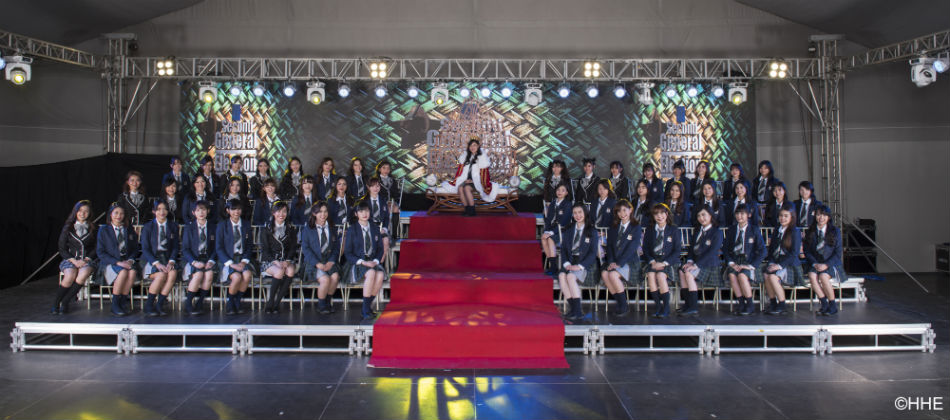 MNL48 2.0 started great so far as the group already released two singles, namely Ikaw Ang Melody and High Tension which are great songs in their own right and they even have planned a second concert: Party ga hajimaru yo! and it looks like they are on the right track but more bloodletting has to be done and this time, it's the fault of the gang as well as with the fans/wota community.
Say hello once again to the love ban and what exactly is it? In layman's terms, it's what you call not having any special relations with the opposite sex thus keeping the "idols you can meet" image Japanese media conglomerates have with their groups and the management takes it seriously but the common scenario is that the idols themselves break the rule in secret as to not to jeopardize their careers but this is not the case here, enter Dani, Cess, their S.O.s and some wota and we are not talking about 2019 anymore, we are now on 2020.
Based on what I can gather here, Dani's boyfriend uploaded a picture of them on the beach and that opened a hornet's nest of controversy as wotas are right now lambasting her for breaking said love ban which was, by the way, stated on the contract she and her parents signed and instead of going the high road of apologizing and keeping things under the rug, she upped the ante by taunting her top wota because he was starting a fire on Twitter and then Cess joined in and it almost escalated into an all out war between Dani's camp and HHE until they decided to part ways. I know that this is not 100% accurate because there are a lot of rumors associated with it.
So that's the story of MNL48 so far, an idol group mired in development hell and is still in development now as HHE, ABS-CBN, and AKS fixing the kinks within the group and how it operates and for now, the show must go on.
Sources: