Most of you already know that MNL48 already has it's own official sub-unit called Baby Blue (stylized as BABY BLUƎ, Ǝrasǝrhǝeads much?), and they have just released their first song called Sweet Talking Sugar.
If not, let me fill you in on what's going on. I won't promise anything but I'll make it short and sweet.
---
What Is Baby Blue?
Baby Blue is the newly formed sub-unit of MNL48 composed of Jan Elaurza, Colleen Trinidad and Amanda (Amy) Isidto. The sub-unit will focus on performing songs under the R&B and hip-hop genre, which made me think.
This is the first time that an Akimoto idol group had a sub-unit based on a music genre (48g fans, let me know if I'm in the wrong here) because basing on my research here, neither the 48g sub-units nor the three sub-units Aki-P created under Onyanko Club have any music genre to play off here and the less said about CXCO(Checkicco), the better. Also, this is more of a Sakura Gakuin thing (see BABYMETAL).
The group debuted their first ever song titled "Sweet Talking Sugar" just today under the EGGS platform, which is handled by Tower Records, a prominent music store in Japan, as part of a partnership deal with HHE and Tower.
Sweet Talking Sugar is the group's only song so far and the next section is dedicated into doing my "best" to review the song and see if it lives up to it's claims as it being a fusion of City Pop and street music vibe. You can listen to the song yourself here but you might need to sign up for an EGGS account.
---
The Song: A Simple Review
I'll admit on the onset that I am not a fan of music post 2006 so for some, this might come as a disparaging review but I'll try to keep my "review" as objective as possible.
First and foremost, the song is pretty much okay by modern pop music standards. It's not bad but at the same time, it's just your run of the mill modern pop song with the le vaporwave-ish beat to accompany it but hey, at least the chorus is catchy enough for me to remember.
The "citypop x streeet" vibe is were my complaints/nitpicks with this song begin.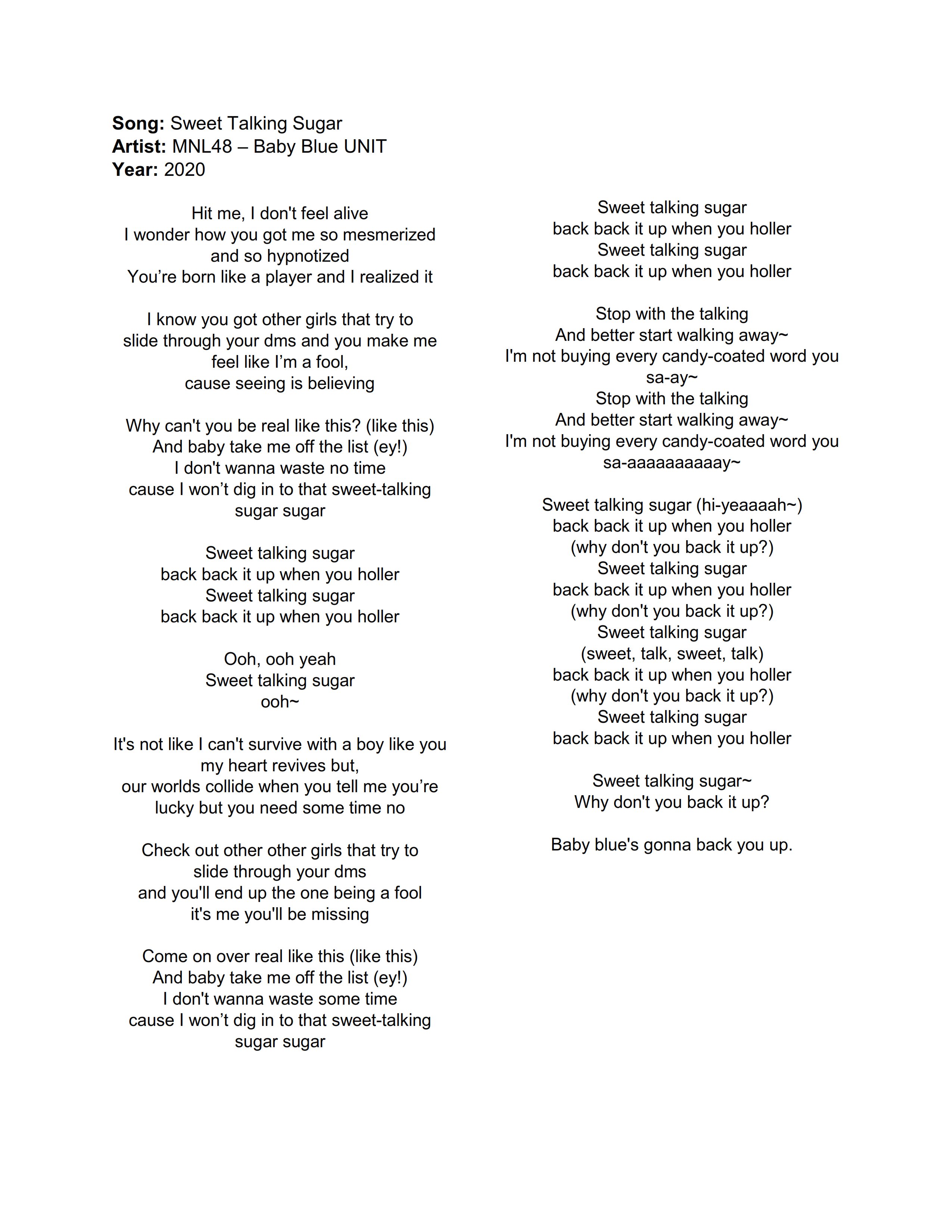 I certainly didn't hear any trace of any City Pop on this song but that could be because I have my expectations set when it comes to something claiming to by City Pop-based (primarily because I listen to too much YMO or anything from the late Showa era).
Where it excels though is on the street music vibe as I can 100% claim that this is something you can play in front of your normie friends and they might mistake it for a Ariana Grande or Billie Eilish song.
All in all, this is a good outing for the Baby Blue sub-unit but the songs need a bit more work if they wanted to attain that true City Pop half of what they claim to be, a fusion of City Pop and street music.
---
See you next time for another MNL48 iSchool review and I might have to move this week's Hallo Hallo Cafe review on a later day because this is just too good to pass up.