With the preceding two blog posts before this being mostly about idol group events, what better way to follow those up than with another trip into the idolsphere?
---
---
Hello! Project Comes To The Philippines
Probably the second largest idol group I've covered next to MNL48 and PPOP Generation, Hello! Project Philippines was formed by The Jet Set Junta aka John Espiritu way back in 2011 with the first idol cover group under their wing, Ivy Musume, and from there, Hello!Pro PH has spawned multiple cover groups.
For those who are new to the Japanese idol scene, Hello! Project was the Onyanko Club of the 1990s that spawned into a plethora of idol groups like C-ute, Berryz Koubou, and the flagship brand of said project, Morning Musume.
What Jet Set Junta was planning to do here is to be Tsunku instead of being Yasushi Akimoto wherein he instead planned to cater to a wider albeit niche audience by creating a multitude of idol groups under the "Hello! Project Philippines" brand.
Not much history regarding Ivy Musume can be seen on the internet due to their independent status however only they, AiDreamin!, and R RULES were the only remaining players who performed in Manila Idol Matsuri and are still performing to this day. They're also the only ones that I know of who performed at Concert At The Park, a TV show that airs performances at Rizal Park in Luneta.
I'll go ahead and give you a list of all the other active cover groups under the Hello! Project Philippines banner with some performances because not much has been recorded or posted regarding Hello!Pro PH cover groups.
Active Cover Groups:
Pepper Keibu – Named after the 1970s Pink Lady single, their focus is on Angerme songs.
Poly-V – A group that mostly covers Buono! songs.
Ivy Musume – The main group which, of course, covers the Morning Musume library.
---
Am Ai Dorimin?
AiDreamin! is a cosplay idol group that has its roots back in 2018 during the halcyon days of the Manila idol scene under a different name.
Currently, the group is composed of six cosplayers with different personalities, and based on what I've seen with their performance at Otasuke's Anisong Festival last March, their motif is based on Sunrise's LoveLive! School Idol Project franchise.
Each AiDreamin idol has its corresponding persona and each persona has its own personal trait which is quite a unique thing with cosplay cover groups. While other groups would tend to just emulate their character's personality, that is not the case with AiDreamin.
Each AiDreamin character, however, is their own creation which sparks ingenuity and creativity considering their past life.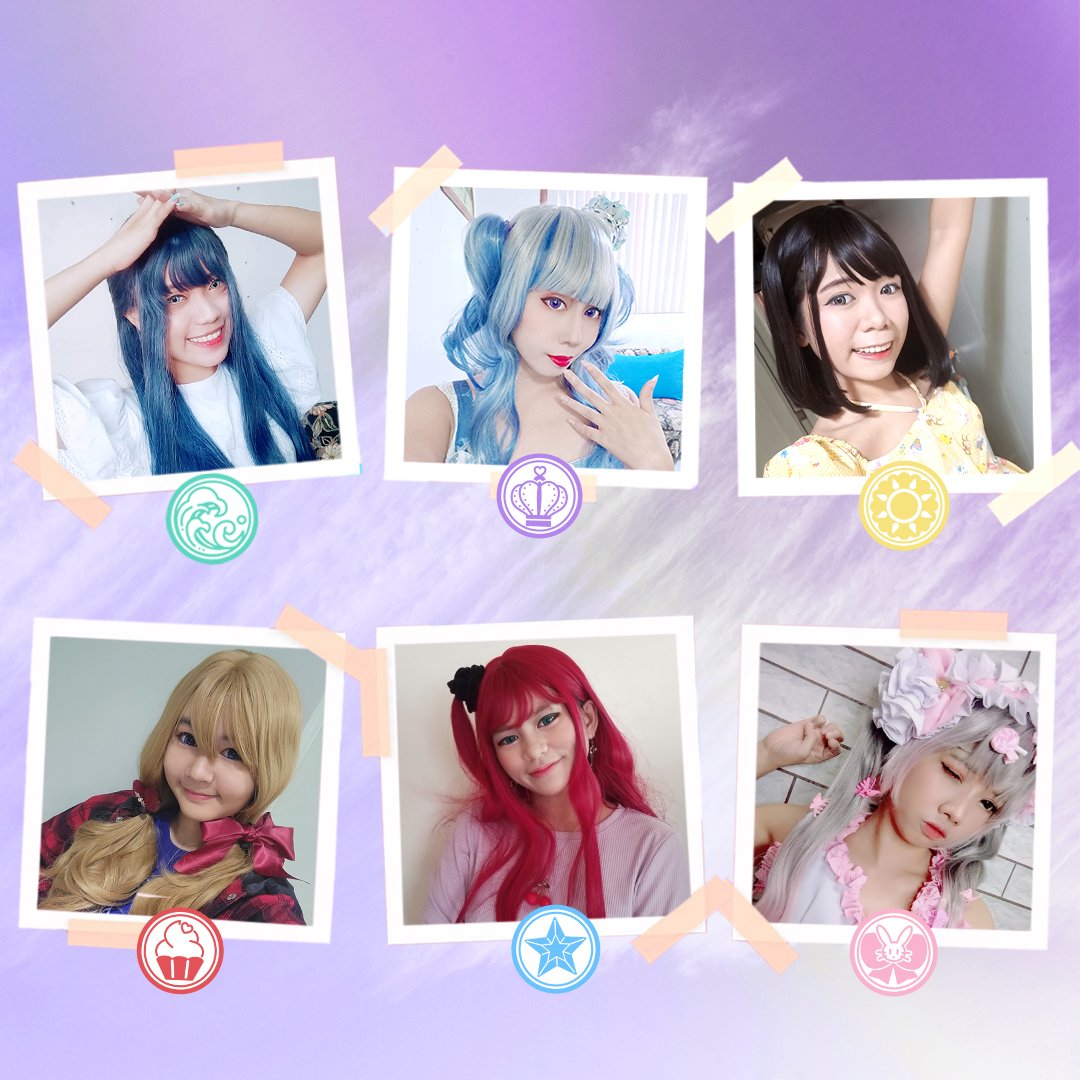 Okay, time for a history lesson. Remember when I said this group, Ivy Musume of Hello! Project PH and R RULES were the only groups who survived the disaster that was Manila Idol Matsuri 2018? Unlike the group formerly known as JAPH Dolls, AiDreamin! not only went by another name back then but with more members in their arsenal than the six people they have now. Enter, A.L.I.C.E. Project.
A.L.I.C.E. Project or AliPro was one of the first groups that came into existence during MNL48's rise to popularity and they also have that same Love Live! Sunshine!! Inspired motif because AliPro itself was spawned out of multiple cosplay cover groups like Sunrise PH, not to be confused with LoveLive! Sunrise from the USA, and Aquarius.
By the way, the meaning of A.L.I.C.E. is Alliance of Limitless Idols Connecting Everyone and they're trying the Hello! Project Philippines route of uniting all idol groups and cosplay cover groups around the Philippine cosplay scene that their member count went up to a whopping 20. Alas, the dream sadly isn't meant to be as in mid-2019, the majority of AliPro's members decided to "graduate" the whole group due to irreconcilable differences.
After taking some time off to rebrand and recharge their batteries, AiDreamin! was born out of the fracas that happened and AliPro members were given the opportunity to stay and be part of this group as a member, a staff, or both. Out of the 20 members of AliPro, two stayed as performers while two members went on to become staff.
AiDreamin! Members:
Ameri as Ritsu Suzuki – The feisty leader of the squad.
Mae Lachica as Chess – The snobby princess, aka the anime ojou-sama archetype.
MAI as Sayaka Hanamori – The Michelangelo of the group, the life of the party.
Cassa as Seira Fujiki – A gamer who has a penchant for sweets.
Tinee-chan as Asuka Hikaru – The tsundere.
Haruhi Chiisai as Ringo Usami – The cute girl of the group.
---
Join The Festa!
Not much is known yet about this group called Festa as they're just an upcoming idol group. At first, I thought that they would just be a duo a la Pink Lady or ClariS but since the drop of their cover of Nadenade, that doesn't seem to be the case.
For now, let's talk about the two members: Kiku and Rachan. Each of the Festa duo has two interesting backgrounds. Kiku is a cosplayer who has a hand in being one of the first crops of J-pop-based Filipino idols with her role as Neko Green of Aidoru Sozai aka Yanachii. Rachan aka Rachan Yuri is new to the idol scene but she has been a cosplayer for years.
Based on what I've seen so far, their chemistry is great and their Nadenade cover is great. The vocals really fit the song and they were able to pull it off. The No Context Festa clips are a fun watch, giving us insight into what goes on behind the scenes. Think of it as one of those funny clips you see on J-pop idol DVDs or if you're a zoomer and don't know what a DVD is, it's comparable to six-second Tiktok clips.
I want to see how Festa would turn out with more members in their arsenal and I hope for nothing but the best in the future. For those who wanted to be part of this group, you can click here.
I hope to cover more idol groups in this installment but due to the lack of time and research materials to work on, I would put them in the next installment instead. In case you have any idol groups you want me to spotlight on the next idolsphere series, let me know in the comments section.