Welcome to another installment of the "More Than" series wherein we take a look at musical acts and go beyond their most popular hits. Last time, we gave the spotlight to the career of one Jun Togawa. This time, we'll start 2023 with a look back at one of Japanese city pop's well-known names: Omega Tribe and its various incarnations.
Yes, this will be a multi-parter again.
Not to be confused with a British punk band, this Omega Tribe is the brainchild of Koichi Fujita who would be, of course, the producer of said project with a band consisting of veterans of the Japanese music scene Tetsuji Hayashi, Tsunehiro Izumi, and Hiroshi Shinkawa at various points of its existence.
The first incarnation of Omega Tribe, however, would be tied with another band. Enter, Cutie Panchos.
Cutie Panchos was an amateur rock band formed in December of 1978. As time went by, the group expanded to a dozen people and one of those people is Kiyotaka Sugiyama who would trade a career in manga for a chance to make something out of a musical career out of encouragement from his prep school teacher.
Soon, S. Kiyotaka and Cutie Panchos would morph into S. Kiyotaka and Omega Tribe after some lineup changes at the tail end of the 1970s and into the early 1980s. It has been said that known American DJ Kamasami Kong gave them the name "Omega Tribe" as he saw Sugiyama and pals being the last of the current era and a preview of what's coming up next. It was also Kamasami Kong who gave Fujita the idea of putting the name of the lead singer before "Omega Tribe" as the vocalist, in this case, Sugiyama, didn't form the core band but a musician who just happens to play with an already formed band, thus the naming convention.
By 1983, they have released their first single as a musical unit: Summer Suspicion. Initially, Tetsuji Hayashi wanted "Umikaze Tsushin" and "A.D. 1959" to be the first two singles but Fujita vetoed those songs because they sounded like Journey.
Summer Suspicion was released on April 21st, and after a few months, charted 9th on the Oricon singles charts. For context, the number one singles on said charts for April of 1983 were "1/2 no Shinwa" by Akina Nakamori and "Yagiri no Watashi" by enka singer Takashi Hosokawa.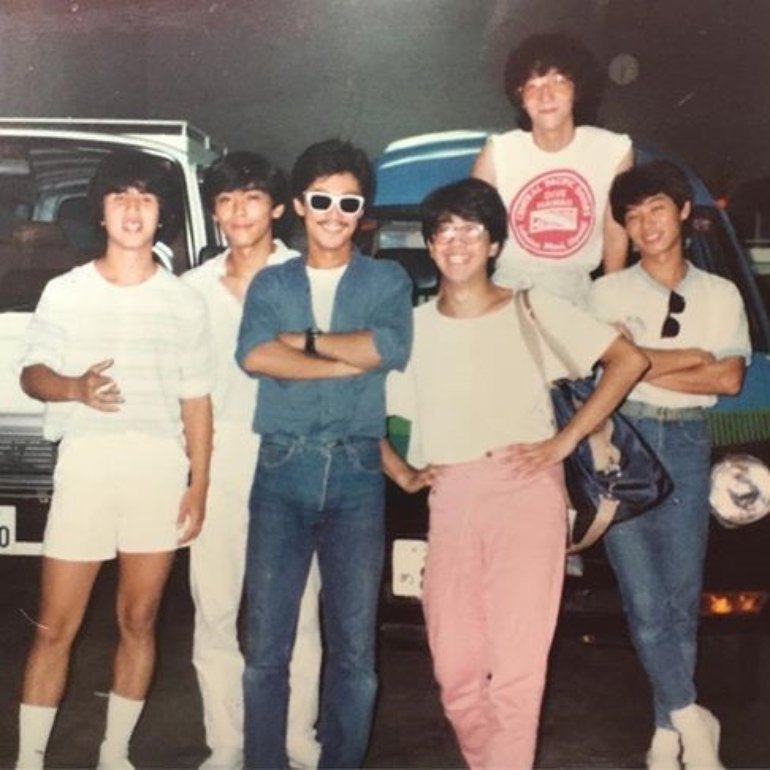 Soon after, this incarnation of Omega Tribe would release banger after banger but their singles and albums would garner poor sales and be performing poorly on the Oricon charts until 1985. By 1985, they were already touring all throughout Japan, and Japan Airlines (JAL) approached composer Tetsuji Hayashi to come up with a jingle for their upcoming slogan:

"Only you, kimi ni sasayaku, futari no natsu monogatari!" ("Only you, whisper to you, two summer stories")
Hayashi, who was then in writer's block and also working with renowned Japanese-Korean composer Chinfa Kan at the time, suddenly got a jolt of inspiration from this slogan and was able to complete the song in just three days. The troupe's biggest hit was born: Futari no Natsu Monogatari ~ Never Ending Summer ~
"I don't know because the song I finished in just three days became Omega's biggest hit."

Tetsuji Hayashi
This would then be soon followed by their first out of the only two studio albums that reached number one on the Oricon charts: July 1st's Another Summer.
All things must come to an end, however, because as early as their hit single's release and at the peak of their popularity, this incarnation of Omega Tribe was on the verge of disbandment. Not because of infighting or poor sales performance, the reason behind their decision to part ways is that the majority of the members, Sugiyama included, felt that they were not an actual band but instead a group of musicians whose producers were doing most of the work.
By April, Sugiyama would tell producer Koichi Fujita about his plan to disband and although Fujita was saddened about this decision of his, he gave Sugiyama the green light to do so because Fujita has already found success on another venture: being Momoko Kikuchi's producer at the time. Tetsuji Hayashi had other plans though and persuaded Sugiyama to reconsider but the decision has already been done.
After another Oricon top one album (the aptly and ironically named FIRST FINALE), Kiyotaka Sugiyama and Omega Tribe would say goodbye on Christmas Eve 1985 with their final concert at the Tokyo Shinjuku Welfare Pension Hall.
This would not be the end of Omega Tribe though but that's…a story for another time.
---
If you want to get started in this incarnation of Omega Tribe, here are your starting points after Summer Suspicion or Futari no Natsu:
ROUTE 134 – The opening salvo of the Another Summer album, it's one of the more underrated banger songs of this incarnation of Omega Tribe.
It still retains its summertime feeling but it trades walking on Shonan beach with cruising down the highway at blazing speeds on summer nights.
Definitely, a must-listen-to song.
Nagisa no Sea Dog – The B-side to Summer Suspicion. It talks about a man trying to forget his feelings for a summertime lover, aptly named Sea Dog.
The opening bass line and the instrumentals saved this song for me in my opinion because the lyrics are your run-of-the-mill summertime love song for me but do definitely give this a try.
PADDLING TO YOU – One of the few Omega Tribe songs to be written by 48g maestro Yasushi Akimoto, and it shows.
It has the same energy as Sea Dog but the Akimoto-penned lyrics take a quite comedic spin as the song is about denying rumors about being "Summer Boy" who was in a relationship.
Still, this song is worth it for shouting "Summer Boy" with Sugiyama alone.
Misty Night Cruising – Another opening salvo track but this time it's from the Never Ending Summer album. With lyrics from Chinfa Kan, this song shows Sugiyama's more rock and roll style of music composition.
Another reason why I like this song is that it shares the same vibe as Route 134 but the lyrics take a more romantic approach.
---
Should I start collecting anything from this incarnation of Omega Tribe? It depends on your mileage. If you wanted a more rock-oriented sound compared to later incarnations' techno/vaporwave atmosphere, this incarnation of Omega Tribe is for you.
Based on what I am seeing on the internet, some fans, mostly Japanese ones, would consider this to be THE Omega Tribe because it felt more consistent in terms of their direction compared with what's going to come but overseas fans would prefer the later incarnation as it sounded more summertime City Pop-ish than Sugiyama's Omega Tribe.
---
Tune in next time as we delve into 1986 and what would happen to the Omega Tribe project. Exit Sugiyama, enter Carlos Toshiki.